---
Kerala is fast loosing its paddy fields and along with it the glorious agriculture tradition, folk songs and art forms that had developed along with it. The local dialect of different communities, their art and cultural forms developed along with the farming tradition in this agriculture-dominated district. Most of these art forms were developed by the marginalized and peripheral communities, which had deep insight into the traditions and knowledge.
According to the State Planning Board, Kerala lost over 500,000 hectares of paddy fields between 1980 and 2007. But due to serious intervention of Kerala government in the year 2010 , 15000 hectors of land kept fallow for 2-5 decades brought under cultivation ,paddy production increased by 1.25 lakh tones ,upland paddy cultivation started in another 1000 hectors. In the Eighties there have been attempts to assist the farming community by means of water diversification and other irrigation techniques so as to increase food production. Appropriate farm management techniques have to be adopted to ensure food security and to stop driving indigenous communities to desperation. But there is tremendous deficit in understanding of natural issues and this leads to unsustainable policy formulations heavily driven by subsidies.
Policy Decision Makers in the various governmental departments have little first hand knowledge of the situation on ground and they are not in any way connected to the Scientific Community. NGOs or local level researchers are often ignored as mere activists and they get to interfere on developmental issues once the implementation process hits the ground. Current method of approaching Paddy farming revolving around Agricultural Officers who are not held accountable or are rated based on their performance is
In the earlier days rice used to be cultivated almost in all parts of Kerala in three seasons .They were Mundakan ,Viruppu and puncha . By adopting good quality seedlings,adequate use of organic manure, integrated water and pest management Kerala farmers can increase rice yield and thereby profit from it.
In the above described context let's approach and analyze the degradation of Umayanallor Yela and look closely the age old tradition of farming and how it contributed to the local economy, animal husbandry and food security. As well as its impact on the pristine Environment, Local Culture, Loss of biodiversity and Livelihood factors affecting the indigenous farmer's community. In the process we can look at the corrective measures that need to be adopted to nurse it back to its former glory.
The main objective of the study is to thoroughly understand the negative impact of no cultivation at Umayanallor Yela and make out a cause for what can be salvaged by reversing the damage. In addition to the above an honest attempt is being made to examine in depth the below, so that the responsible authorities can be made aware of the same. This could lead the way towards resumption of sustainable farming and allied application led growth.
Low Soil Fertility & resultant loss of plant nutrient and moisture
Heavy Infestation of Weeds and Insects
Climatic Change Variations resulting in flash floods, water logging, and submergence due to lack of drainage mechanisms.
Usage of traditional varieties due to non-availability of newer seed varieties.
Lack of farmer knowledge about high yielding varieties
Fertilizer Usage
Irrigation Sources during draught
Low appreciations of Mechanized Farming and lack of the same
High cost of manual labour and poor productivity
Non-remunerative Returns owing to high cost of cultivation.
Improper plant protection measures
Limitations of traditional agriculture
labour Scarcity
Availing of government Facilities
Inadequacies of governmental promotional activities.
How has the tampering of nature's mechanism, wrecked havoc on Umayanallor Yela and its ecosystems?
Procurement Schemes
State of the industry which led the clarion call for closure of the estuary under the garb of agriculture.
Freshwater Fish availability in the fields
Impact on Livelihood of Indigenous farming community
Degradation of the farmlands Soil
Loss of Biodiversity
Soil Erosion from adjacent areas.
Waste Water flows and dumping of Alien material
It's HELP Foundations objective that we want to bring in all stakeholders together so that they can look at what is needed to start farming in all earnestness in Umayanallor Yela,  so that nature can be restored from becoming waste dump landfills to shades of its glory by turning the clock full circle. It's our awed goal that we at HELP Foundation will be able to bring in systems and processes in association with the local administration and the agricultural office so that the responsible people and systems will be entrusted with the task of being
Custodians of Umayanallor Yela there by preserving it for future
Nurture the Padasekharam back to health so as to be able to restore its lost glory
Restore the natural mud bank canal used for irrigation purposes
Revive the tradition of the farming community
Sustainable Farming with all its indigenous cultural feel
Bring back the migratory birds and the acquatic life.
Contribution to Food Security in the region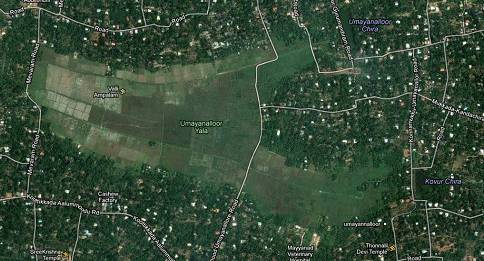 Figure 1: Umayanallor Yela